What does CWY do?
Cleanaway is a leading waste management services company in Australia. Cleanaway is vertically integrated through the waste value chain from waste collection to resource and energy recovery, to waste treatment and landfill.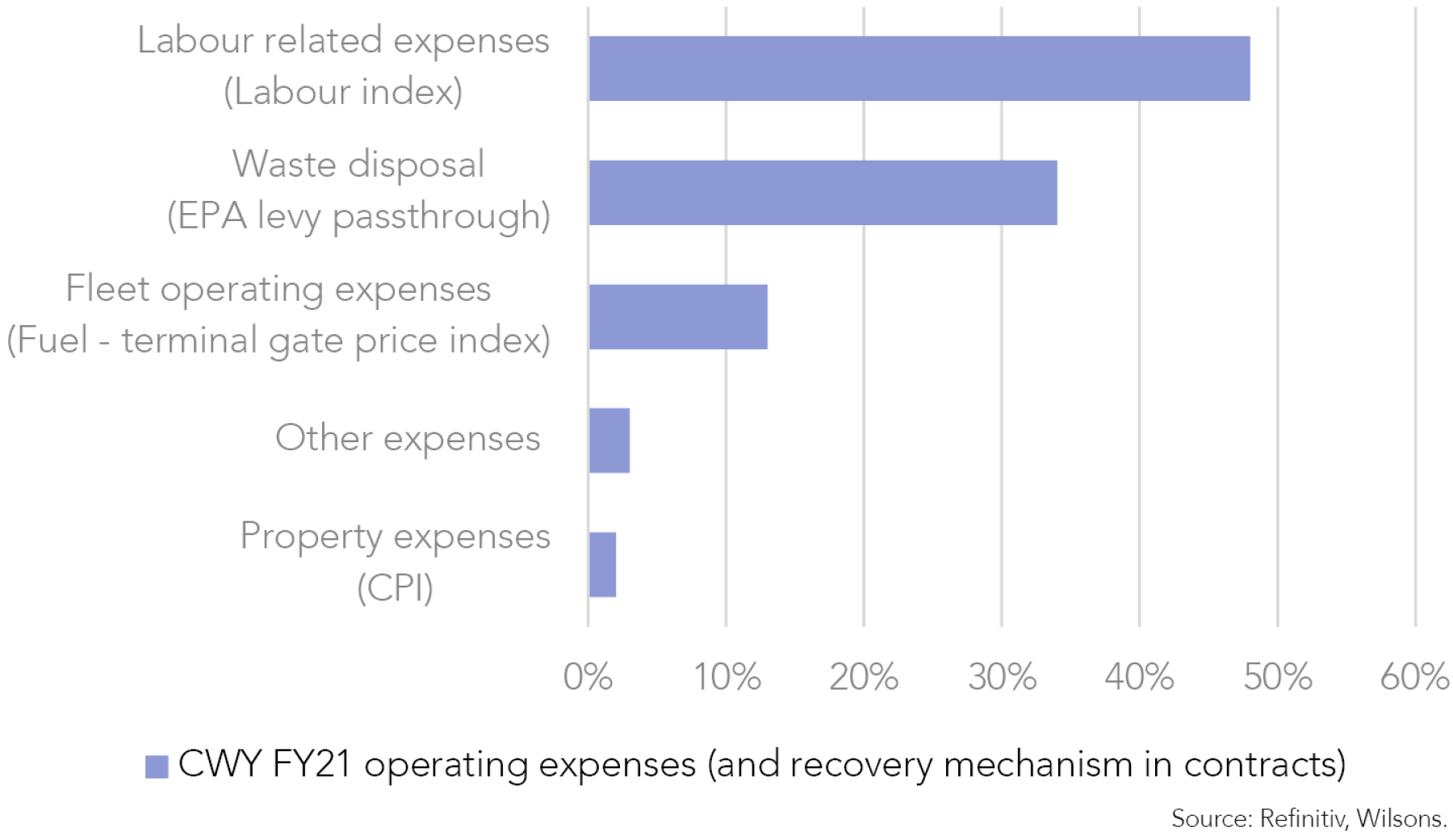 CWY is a quality defensive
Quality earnings growth with defensive characteristics
The majority of CWY's revenue is contracted and therefore recurring. Cleanaway's revenue is largely underpinned by long-term contracts across different waste categories with a geographically diverse customer base of municipal councils, hospitals, infrastructure, resources, and commercial/industrial clients.
Multi-year contracts provide steady volumes and recurring revenues and include appropriate price adjustment mechanisms. For example, the largest proportion of revenue from solid waste services, the duration of Municipal contracts is typically 7-10 years and 3+ years for commercial and industrial contracts.
Management has found ways to optimise revenue over this period. Underlying earnings have grown since 2015, coupled with steady margin improvement.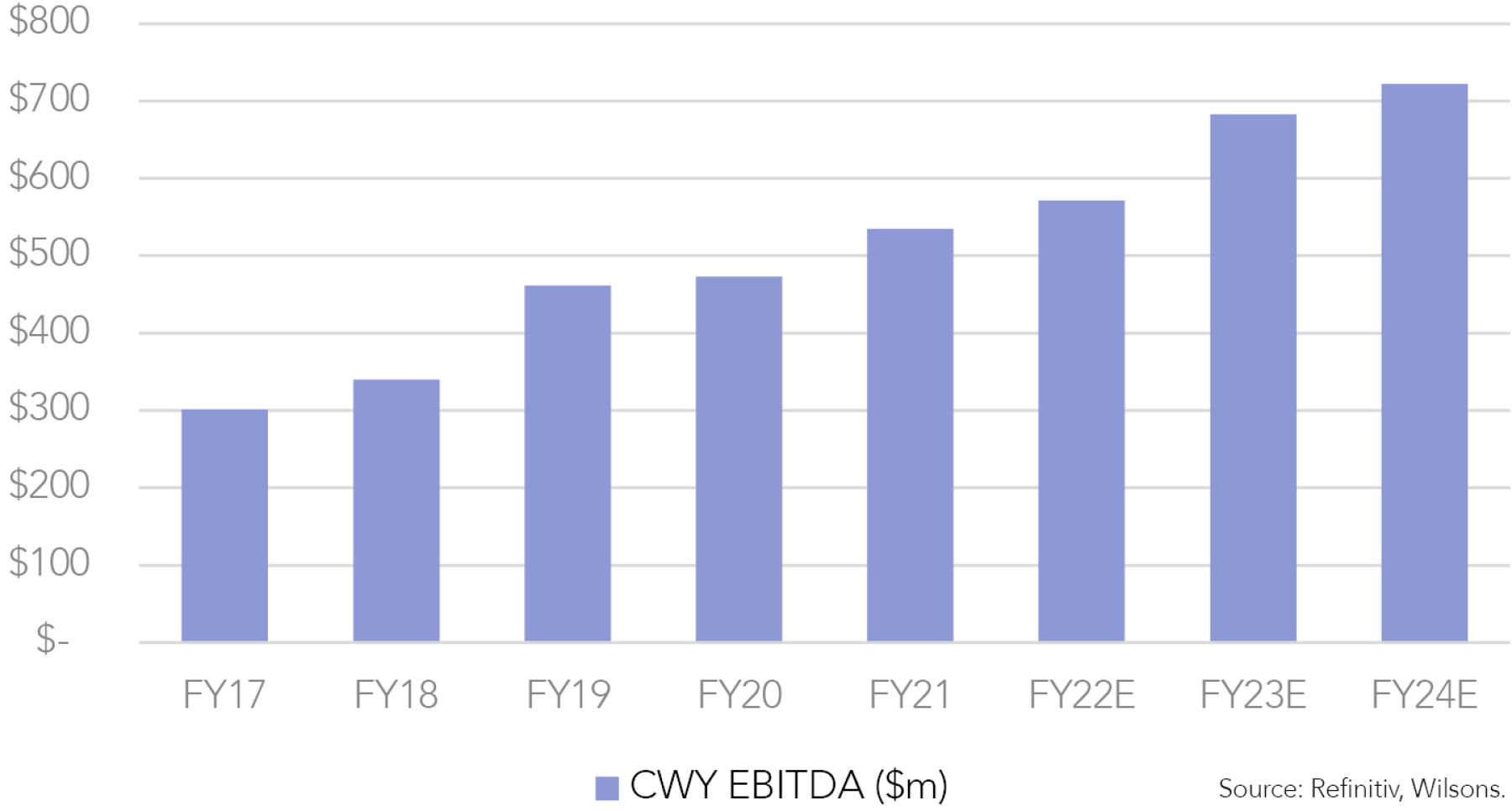 Inflation protection
CWY is largely insulated from inflationary pressure with contract pass through mechanisms. The key costs for CWY are labour, waste disposal and fleet costs (fuel, repair and maintenance etc). Rise and fall clauses in contracts capture relevant labour fuel and general CPI changes. However, price adjustments tend to be lagged as they adjust on the contract anniversary date or 1st July.
Market-leading position with barriers to entry
CWY is Australia's leading waste management company. This puts CWY in a strong position for contract wins and negotiations.

CWY is vertically integrated across the waste value chain. A strong nationwide portfolio of infrastructure assets, including treatment and landfill, provides synergies between operating upstream (collection) and downstream (treatment and landfill). The recently acquired landfill and transfer stations from Suez are likely to increase margins, since they complement CWY's collections operations and enable significant
waste internalisation (collection and disposal synergies).
The capital intensity, engineering and regulatory licensing and approvals are barriers to entry for competition trying to enter downstream. It is very difficult to build new landfill sites in Australia.
Short-term disruption now priced in
While CWY has quality defensive assets, it is not impervious to disruption. A combination of recent one-off operational issues (flood impact on New Chum landfill - 5-7m EBITDA and equipment damage in Health Services post-collection - 5-7m EBITDA impact) and labour availability and costs led to management downgrading guidance for 2H22.
These issues are largely one-offs, and contract levers will pass costs onto customers. This disruption now looks to be overdone with respect to the share price.
Ability to compound earnings growth
Margin expansion
We still believe CWY can grow earnings over the next 2 years. CWY has set a 29-29.5% EBITDA margin target for its Solid Waste segment. We think CWY can surpass this target as it generates synergies from recent acquisitions, particularly the Suez acquisition, and earnings optimisation that CWY management has been executing on for a number of years. We believe if CWY can achieve a 30% EBITDA margin this will be above consensus for FY24.
M&A
CWY has a proven track record of successful bolt-on acquisitions, seamlessly incorporating these assets into the business. We still believe that CWY can find further targets over the next few years to provide value for shareholders and grow earnings.
Long-term earnings growth
Longer-term drivers of CWY include:
FOGO (food/garden organics): The fastest growing segment due to the implementation of recycling policies by local governments.
Construction and demolition (C&D) waste: CWY has traditionally focused on municipal and construction and improvement (C&I) waste, but it sees opportunities to expand into the faster growing C&D market. This segment is more cyclical, but it feels it can be absorbed within its broader portfolio.
Waste-to-Energy (WtE): The largest investment opportunity by project, but long-term (commissioning in 5-6 years). WtE uses residual waste otherwise destined for landfill to generate electricity.
Valuation
CWY trades on a 12-month forward PE of 27x. We think this is a reasonable multiple for a quality defensive in a market-leading position, with long-term contracts insulated from inflationary pressures. This multiple also looks reasonable relative to the 25% growth expected over the next few years for CWY.