Telstra's major segments include:
Mobile: postpaid and prepaid mobile plans, mobile broadband, 5G connectivity. Provided through owned infrastructure.
Fixed – Consumer & Small Business: National Broadband Network (NBN) internet plans, fixed-line telephony, entertainment (e.g. Foxtel), legacy copper network (now largely replaced by NBN).
Fixed – Enterprise: data and connectivity, network applications and services (NAS), and cloud services.
InfraCo – Fixed: data centres, optic fibre, ducts, pipes and fixed network sites.
Amplitel: >8k mobile towers and supporting infrastructure (51% stake) – Australia's largest mobile network.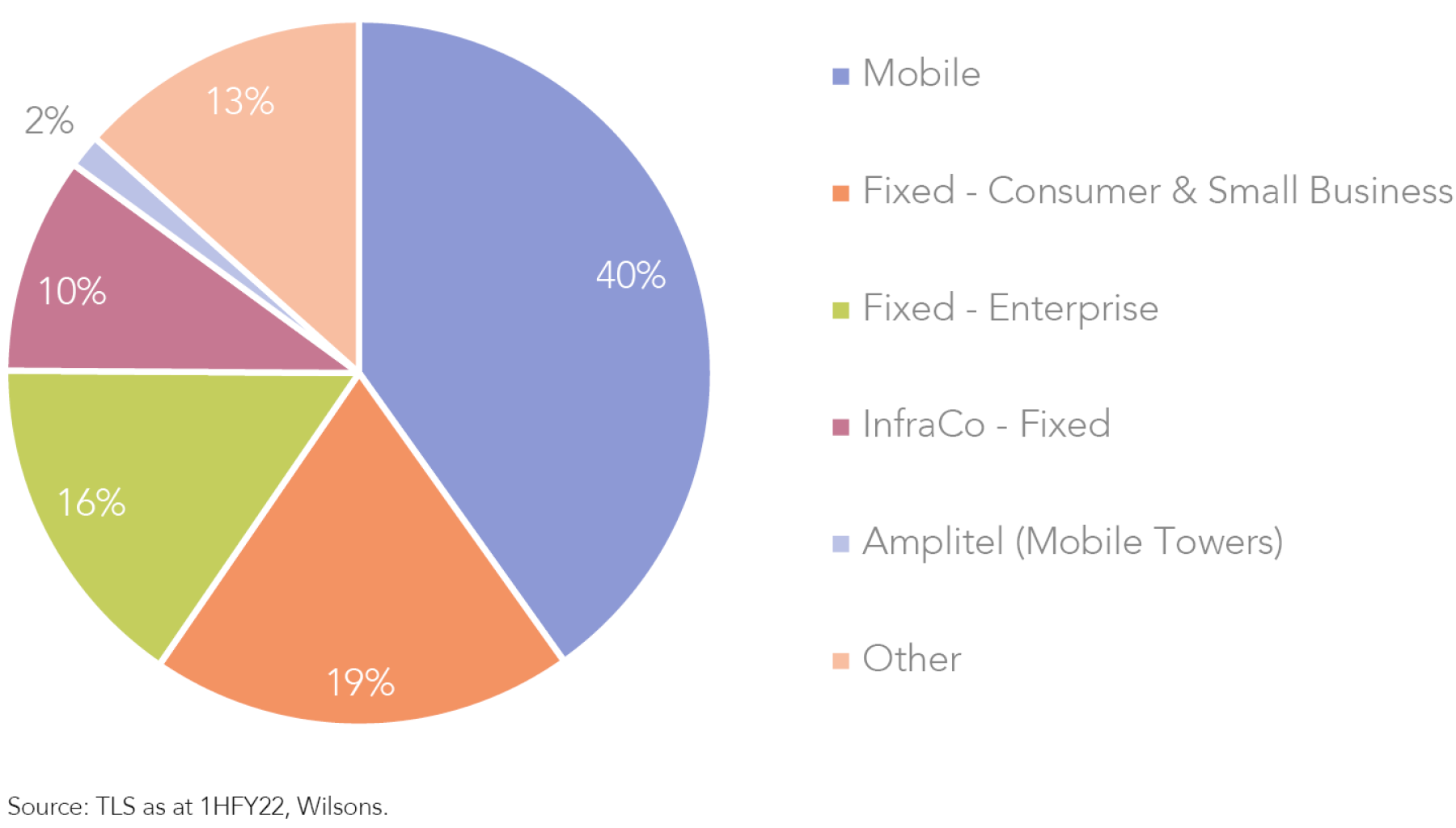 Telstra's earnings have been plagued by NBN headwinds over the last decade
Telstra's share price started coming under pressure in 2015, largely due to the impact of the Federal Government's NBN roll out, which has been a significant headwind to earnings in recent years.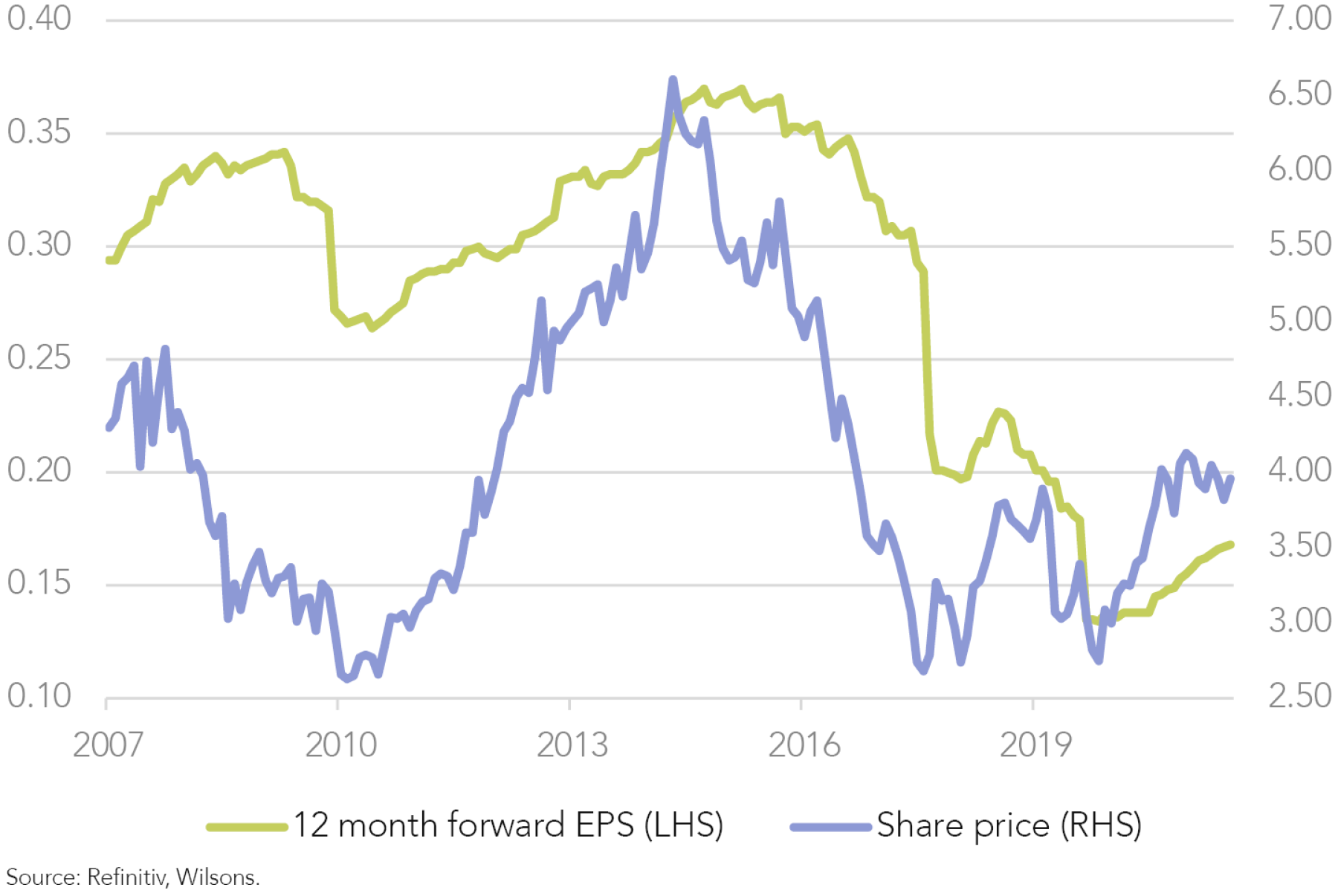 The NBN has progressively replaced Telstra's legacy fixed-line copper wire network, which previously connected most of Australia's homes. As a consequence, Telstra is no longer the predominant wholesale fixed line network provider in Australia, which has led to a significant loss of revenue as customers transition towards NBN broadband services.
In its fixed line business, Telstra has gone from being vertically integrated, as both an infrastructure owner and a retail service provider, to now merely acting as a retail provider that re-sells access to the NBN, competing with other service providers on a level playing field. Telstra has labelled this permanent, recurring loss of earnings to the NBN as the 'in-year NBN headwind'.
The NBN roll out has also driven a significant increase in the cost of providing fixed broadband services for both Telstra and its competitors, putting fixed-line reseller margins under pressure. We have also witnessed elevated competitive intensity between major players in the mobile market, with aggressive price cutting squeezing operator margins even further.
The downward trajectory of Telstra's earnings in recent years has reflected this challenging industry backdrop.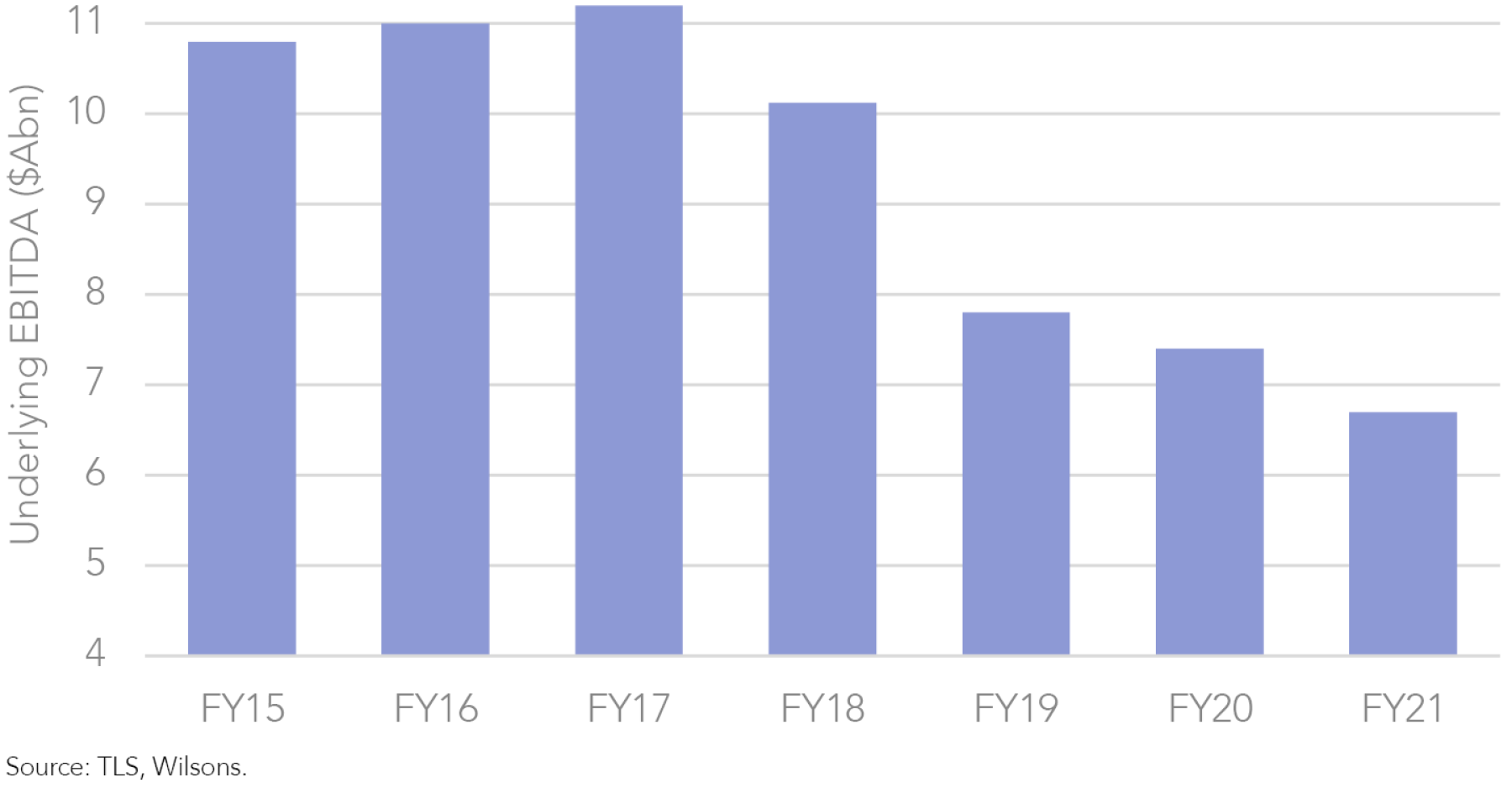 Are we at an inflexion point?
On the bright side, as the NBN roll out is now effectively complete, we are at the tail-end of the so-called NBN headwinds, with management suggesting the ongoing drag from the migration off its legacy network is all but over.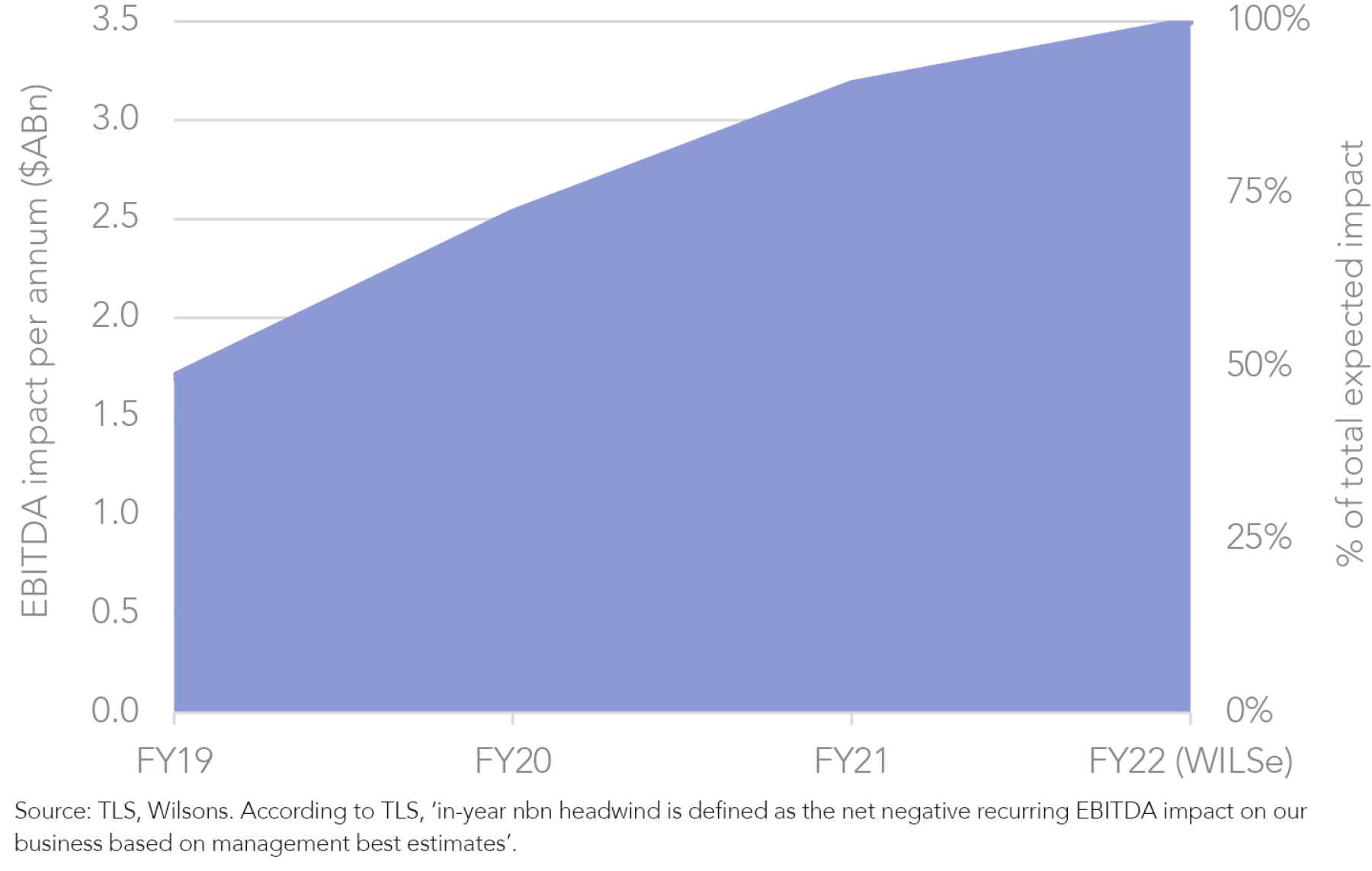 Of course, this still leaves a permanent hole in Telstra's earnings given the loss of its legacy fixed-line network. However, as this hole is no longer growing, earnings will likely have bottomed out in FY22, establishing a new base to grow from in the future.

Consistent with the improved backdrop, we believe Telstra is entering into an EPS upgrade cycle, with analysts increasing their earnings forecasts in a sustained manner for the first time in years.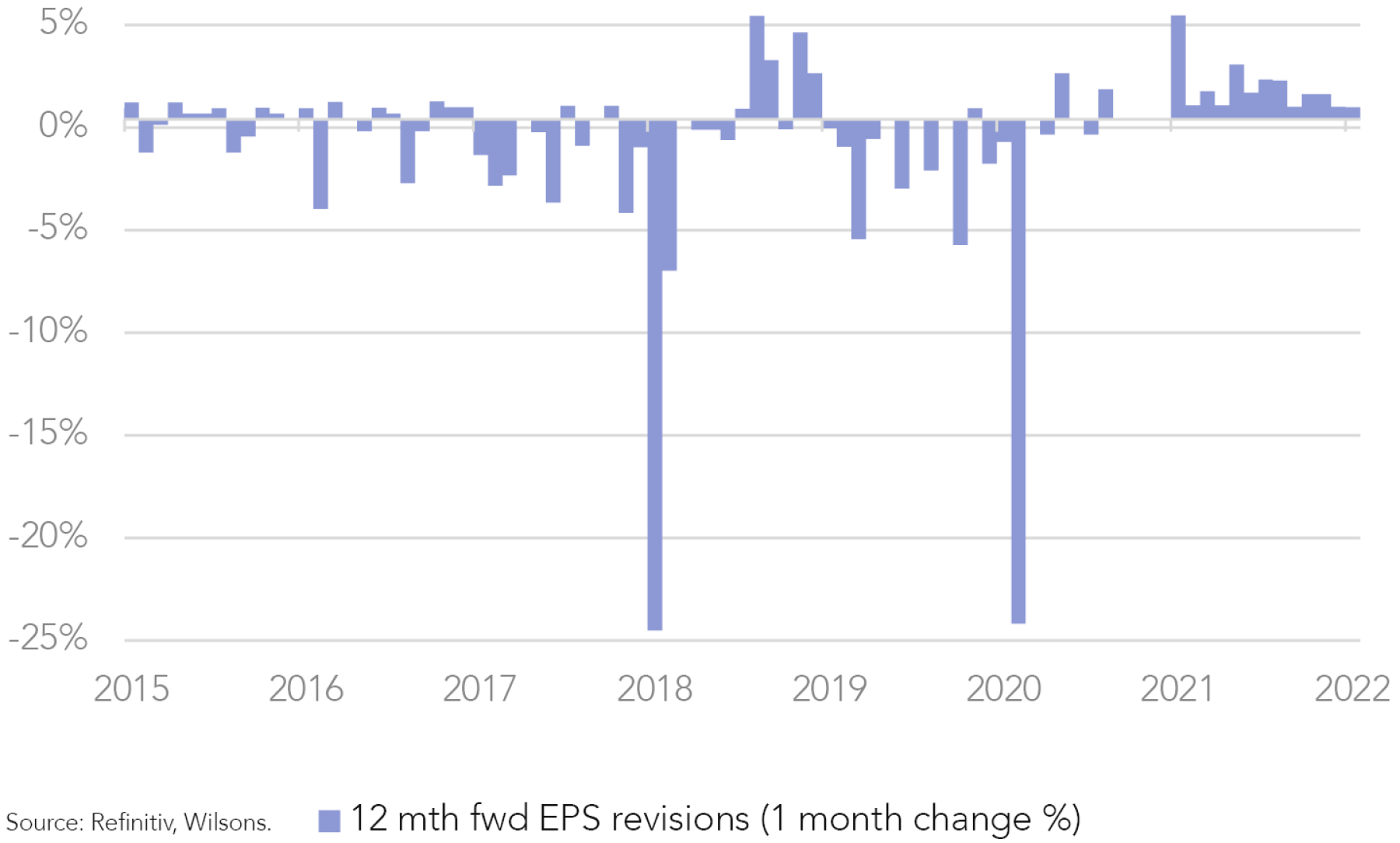 Telstra's latest strategy, 'T25', has the objective of achieving a mid-single digit underlying EBITDA CAGR and a high-teens underlying EPS CAGR to FY25, which will represent a material step change in the company's earnings trajectory, if achieved.