GMG is a truly global integrated property company. The group owns, develops and manages industrial property and business space globally, with its key operating regions being Australia and New Zealand, Asia, Continental Europe, United Kingdom and the Americas. Over time, management has demonstrated a strong track record of deploying capital with a high rate of return.
GMG is well placed to benefit from the long-term tailwinds of the digital economy, as continued growth in e-commerce drives strong demand for modern, well-located, urban infill logistics sites. Supply of such sites is relatively scarce and barriers to entry are high. The widespread supply chain disruptions caused by COVID have also underscored the value of having strategically located logistics sites, encouraging businesses to shore up their supply chains and further bolstering tenant demand for high quality industrial assets.
The positive sector backdrop should continue to underpin strong occupancy levels and rents across Goodman's investment portfolio over the medium- to long-term, while also driving growth in its development WIP (work in progress) book (currently ~$13.4 billion) and in its assets under management (currently ~$68.2 billion).
The group has ample balance sheet capacity with gearing at 7.2% (18.7% look-through) and available liquidity of $2.1 billion, while most of its capital investments are internally funded with retained earnings being largely re-deployed into the business.
In recent years, GMG have grown their funds-management operations – a move that proved prescient. COVID-19 highlighted the reliability of their earnings under significant market stress. As a recognised leader in real estate asset management, the growth in funds-management earnings should continue. The market will normally pay a higher price for annuity style earnings, and given that a shift towards this style of earnings has been key to GMG rerating over the last decade, we think this can continue over the next decade as well.
We expect the business to sustain mid-double-digit earnings per share (EPS) growth over the medium-term, consistent with its 5-year historic EPS compound annual growth rate (CAGR) being ~14%. This would likely lead to earnings upgrades for the company (consensus is expecting 12.5% CAGR over FY22-FY24).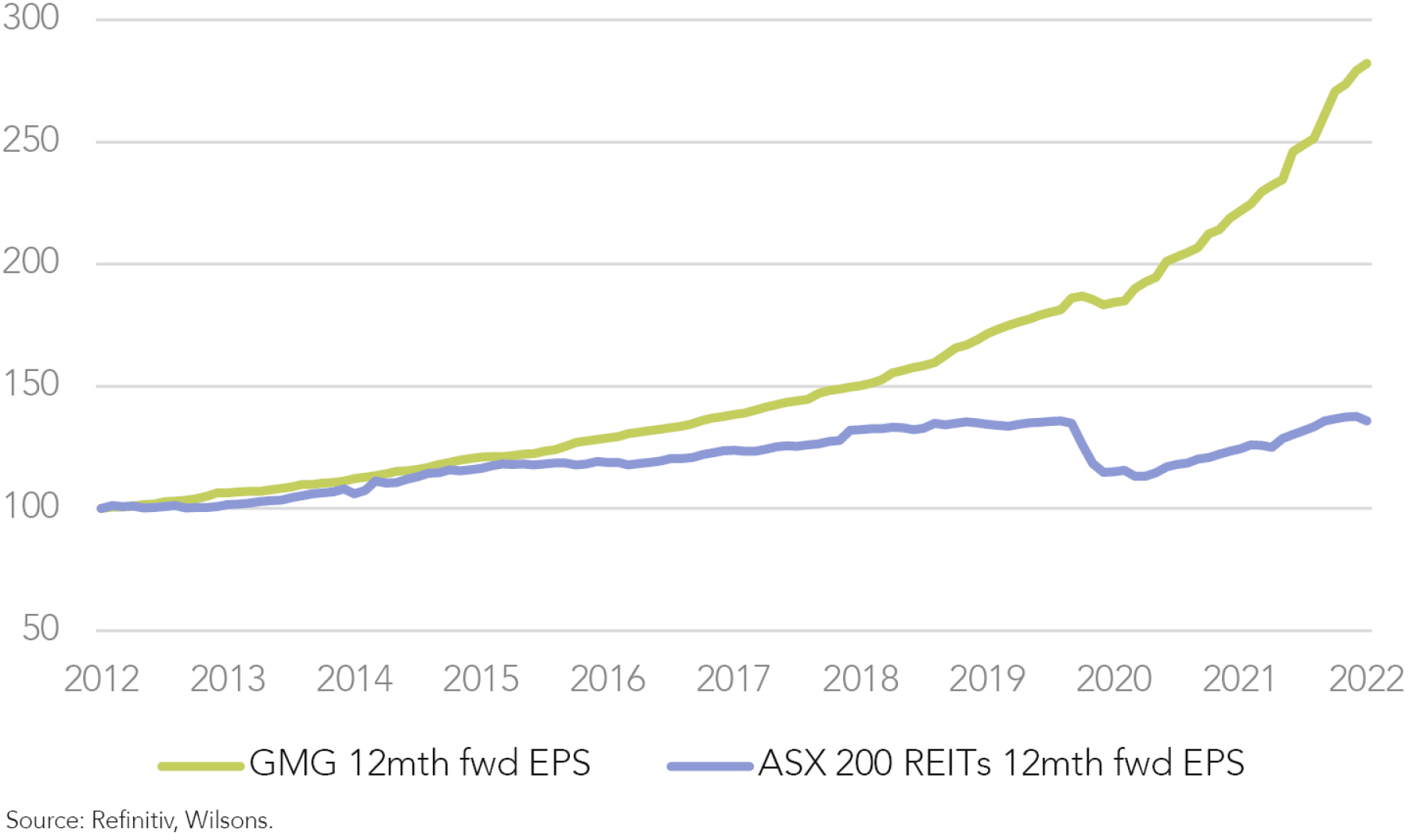 In our view, GMG's valuation is currently attractive with the group trading at a forward price-to-earnings multiple of ~20.6x, which is favorable in the context of management's guided +23% EPS growth for FY22 and a mid-double-digit EPS growth expected over the medium-term.